Electron Transfer Processes in Anoxic Aquifers. SP ZWI: Measurement and Occurrence of Metabolites and their Role as Electron Donors and Indicators of Biochemical Degradation in Aquifers. (e-Trap)
Contact:

Christian Zwiener, Carsten Jobelius

Project Group:
Subproject
Funding:

DFG
Period
2006 – 2009

Description
Electron Transfer Processes in Anoxic Aquifers.
(e-Trap)
The development of anoxic conditions in aquifers is a common phenomenon due to the limited availability of oxygen. For this reason anaerobic processes play a major role for the decomposition of organic matter in aquifers compared to aerobic processes. The knowledge about the mechanisms and pathways of electron flow processes under these conditions is however fragmentary. But with respect to fundamental questions such as drinking water supply or contaminant degradation the knowledge about these mechanisms and pathways is very crucial.
The Research Group therefore aims to establish principal concepts about the pathways and control of electron transfer processes in anoxic aquifers. Of particular relevance is the element iron which is the predominant redox sensitive species in most aquifers and which is closely linked to the redox cycles of the elements C, N, and S.
Figure 1 gives an overview about the structure of this research group and additional information can be found here.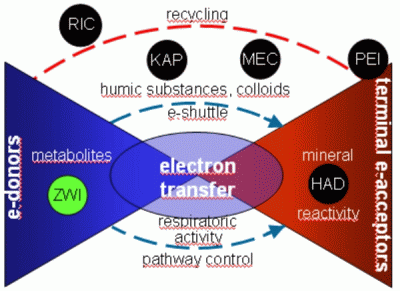 Figure 1: Structure of the research group "Electron transfer processes in anoxic aquifers"
Subproject ZWI:
"Measurement and Occurrence of Metabolites and their Role as Electron Donors and Indicators of Biochemical Degradation in Aquifers."
Within the research group our institute focuses on metabolites formed by microbial anaerobic degradation processes of organic contaminants in anoxic aquifers. Specific biochemical and co-metabolic pathways of microbial degradation often form unique extracellular intermediates or metabolites, which can be used to indicate in situ electron transfer processes in aquifers. Arylsuccinate derivatives for example have emerged as potentially universal metabolic biomarkers for the transformation of toluene, xylene, ethylbenzene, and methylnaphthalene under anaerobic conditions. They were identified in laboratory cultures and partly in field samples. Their occurrence and distribution in the field has been neither investigated systematically yet, nor were the geochemical and hydraulic parameters investigated that may influence formation and further turnover of metabolites.
The occurrence of metabolites and the influence of different parameters is going to be investigated in this subproject. For that purpose lab experiments with anaerobic bacterial cultures from contaminated aquifers were performed and groundwater samples from different aquifers were analysed.
These are the main objectives of the subproject:
Investigation of the occurrence and distribution of metabolites under different conditions
Elucidation of the function of metabolites in electron transfer processes
Use of metabolites as indicators for the biodegradation of contaminants
The metabolites and contaminants were analysed by different analytical techniques.The predominant polar and water soluble metabolites (aromatic and heterocyclic acids and succinates) are measured by liquid chromatography with electrospray ionisation (negative mode) coupled to tandem mass spectrometry (LC-ESI-MS/MS). If the metabolites occur only in very low concentrations or matrix components interfere the analysis a solid phase extraction (SPE) is carried out to preconcentrate the analytes and to clear the perturbing components.
The predominant nonpolar contaminants (aromatic and heterocyclic compounds) in the water samples get preconcentrated by liquid-liquid extraction with an organic solvent and analysed by GC-MS.
Project Partners
Prof. Dr. Meckenstock, German Research Center for Environmental Health, Munich
Prof. Dr. Haderlein , Institut für Geowissenschaften, Eberhardt Karls Universität Tübingen
Prof Dr. Kappler, Bereich Geomikrobiologie, Eberhardt Karls Universität Tübingen
Prof. Dr. Peiffer, Universität Bayreuth
Dr. Hans Richnow, Centre for Environmental Research (UFZ), Leipzig
PD Dr. Zwiener, Engler-Bunte-Institut, Bereich Wasserchemie Universität Karlsruhe